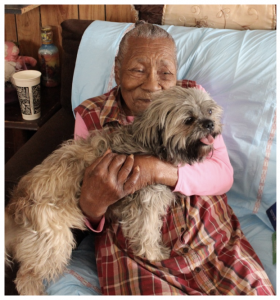 Classie Williams and her dog, Koby, are a perfect example of the many pet families who benefit from the services provided by PAWS San Diego—and from the generous support provided by the Paige Foundation.
At 91-years-old, Classie – who is one of PAWS' most senior clients – lives with debilitating kidney problems that make it difficult for her to leave her home. Fortunately, although she doesn't live with any friends or family, she has Koby to keep her company. "He is like a baby to me," Classie says. Koby is someone Classie can talk to and play with – and they share a bond that provides daily fulfillment.
To stay healthy, Koby needs a specific type of dog food, which Classie couldn't afford on her limited income. Last year, Classie's daughter-in-law found out about the PAWS Program and helped her enroll. Now, as a client of our In-Home Service, PAWS provides Classie and Koby with a monthly delivery of the special pet food and supplies necessary to keep Koby healthy and happy.
Without the services and support provided by PAWS, Classie would face the heartbreaking possibility of having to live without Koby. But thanks to the support provided by PAWS and the Paige Foundation, Classie and Koby are able to stay together. By providing pet food, supplies and assistance with veterinary, we are ensuring that Classie and Koby continue to enjoy their priceless bond.
We are so grateful to Paige Foundation for helping deserving pet families like this one stay together. From Classie and Koby, and all of us at San Diego Humane Society, thank you for your generosity and compassion.