In 2020, the Foundation donated $70,000 to support our older adults mission.
The Paige Foundation facilitated a $1.5 million dollar loan and a $30,000 grant to TRU Community Care to to support P.A.C.E. a "Program of All Inclusive Care to the Elderly."  This visionary and pioneering program creates an environment to serve virtually all social, medical, emotional, and psychological needs of the Medicare and Medicaid qualified indigent population, with unparalleled quality of centric managed care. The program care model allows participating older adults to remain living at home if they are capable.
TRU Community Care was founded in 1976, as a Colorado-licensed, Medicare and Medicaid-certified, non-profit healthcare organization serving Boulder, Broomfield, Adams, Jefferson, Weld counties, and beyond.  For over three decades, TRU has touched thousands of lives with specialized end-of-life, support and bereavement services.
The Foundation also made a $30,000 capital contribution to P.A.C.E. in California for a traveling clinic.  We are excited to support the expansion of St. Paul's P.A.C.E. which was originally founded in the 1950s.  Their programs serve low-income, frail older adults.  As an innovative leader in senior care, St Paul's was the first HUD community to provide assisted living services.
The Paige Foundation gave VIA Mobility Services $10,000 to support transportation for low-income older adults and their pets allowing them to age in their homes.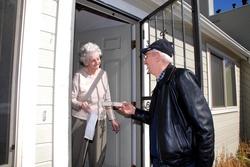 "The gift from the Hebert and Judy Paige Family Foundation will transform the lives of seniors for years to come." – Todd Kaprielian, St. Paul's Senior Services Foundation, Executive Director
"The Paige Foundation has helped TRU make this incredible gift to our community possible.  TRU's overarching mission is to ensure that everyone in our community can live with advanced illness as comfortably, confidently and fully as possible.  With the help of the Paige Foundation and other community partners, we are now serving vulnerable seniors of our community who previously faced the challenges of navigating complex illness in a fragmented health care system without sufficient resources and guidance.   With PACE, we can now provide a "one-stop shop" for all of their health care needs, to enable them to continue living in the community they love, with a quality of life they may not have enjoyed otherwise.   We truly cannot be more grateful for how the Paige Foundation has supported us through this critical first year, your support has made all the difference – to our community seniors who need us most, and to those of us who are privileged to walk by their side through this chapter of their lives.  On behalf of us all – thank you."  – Samantha Black, Executive Director, PACE