In 2016, the Foundation donated $75,000 to support our mission for senior citizens.  The Paige Foundation partnered with the Rose Community Foundation for a one-time investment in kitchen equipment to strengthen the capacity of Longmont Meals on Wheels, Project Angel Heart, TLC Meals on Wheels and Volunteers of America. Our strategic investment in kitchen equipment will allow these in-home meal providers to increase the quality and number of meals they can provide allowing them to meet the growing needs of low-income seniors. Did you know one in seven senior citizens has food insecurity and this number is expected to increase significantly in the coming years? In-home meal delivery programs not only provide healthy food but also offer social interaction for isolated seniors. Studies show that meal delivery programs allow seniors to stay in their homes longer and enable them to go home following hospital stays therefore reducing the need for costly nursing home services.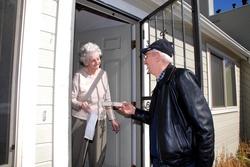 In addition, the Paige Foundation facilitated a $1.5 million dollar loan to TRU Community Care-Hospice of Boulder County to establish a new P.A.C.E. program and facility at no out of pocket cost to the Foundation. P.A.C.E. is a "Program of All Inclusive Care to the Elderly" which will become operational in August, 2016. This visionary and pioneering program creates an environment to serve virtually all social, medical, emotional, and psychological needs of the Medicare and Medicaid qualified indigent population, with unparalleled quality of centric managed care. The program care model allows participating seniors to remain living at home if they are capable.
TRU Community Care was founded in 1976, as a Colorado-licensed, Medicare and Medicaid-certified, non-profit healthcare organization serving Boulder, Broomfield, Adams, Jefferson, Weld counties, and beyond.  For over three decades, TRU has touched thousands of lives with specialized end-of-life, support and bereavement services.
The Paige Foundation is excited to support TRU's expansion of services and offerings to the disadvantaged senior population.  This year, the Foundation reinforced our support of TRU Community Care with a one-time capital campaign donation of $40,000!
"Funds donated from the Paige Family Foundation have helped us expanded our kitchen capacity so that we can continue to serve hot, nutritious meals to a growing number of seniors and homebound neighbors in need. The additional capacity will also allow us to launch a program to offer weekend meals to our clients. We sincerely appreciate their support in driving away hunger and senior isolation in our community." – Diane McClymonds, Executive Director, TLC Meals on Wheels
"It was so wonderful to know I'd get nutritious, good meals. When you're alone it is so nice to know that [meals on wheels volunteers] were coming and someone would be looking out for me. Thank you so much for all you did for me."  – Kitty, Volunteers of America Meals on Wheels Client